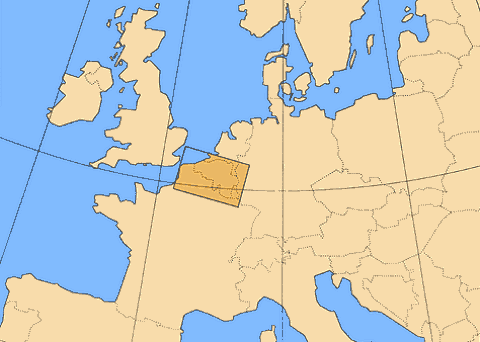 The study area
The territory dealt with in the present work includes Luxembourg, Belgium and northern France [with the following departments (numbers used for administrative purposes): Nord (59), Pas-de-Calais (62), Somme (80), Ardennes (08), Meuse (55, northern part only), Meurthe-et-Moselle (54, northern part only) and Moselle (57)]. The Netherlands and Germany are not included, although the occurrence of interesting species close to the Belgian or Luxembourg borders is shown on distribution maps.
We briefly describe the phytogeographical districts of our area of study, focusing on the habitats they can provide for the lichen flora. The districts are those of the 'Nouvelle Flore de la Belgique, du Grand-Duché de Luxembourg, du nord de la France et des régions voisines' (Lambinon et al. 2004). Our synthesis is drawn from the work of Lambinon (1969: 81-90) and Tanghe (1975).
Please select descriptions of districts in the menue on the left.